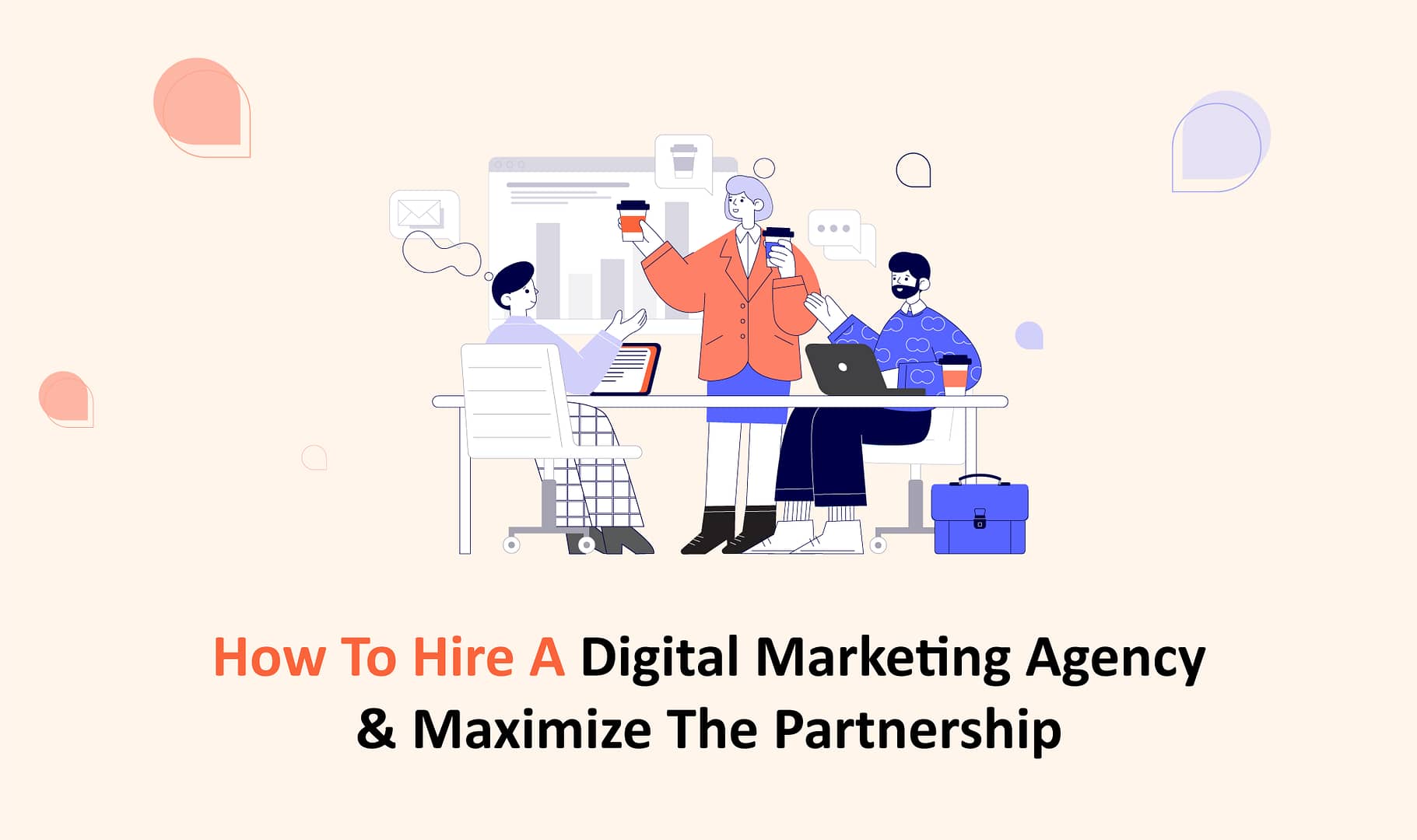 Are you sure that traditional marketing doing good for your business? Whether you adopt traditional or modern marketing methods, digital marketing is the key to driving sales and making them consistent.
But figuring out how much effort your business requires might be challenging. Many founders are still determining if their marketing is working the right way.
Here comes a comprehensive guide on how to hire a digital marketing company to help you with personalized marketing, analyzing trends, audits, and optimizations, to maximize the Return on investment (ROI) of your business. 
Online marketing encompasses a wide range of strategies, including pay-per-click management, email marketing, content creation, social media management, web design and development, search engine optimization, and many more. In this scenario, a digital marketing agency like Rankrezz can help you. 
Are you considering hiring a digital marketing agency? Read more to learn, and contact us to partner with the experts in digital marketing.
Benefits of hiring a digital marketing agency
At present, digital marketing has become the most important part of the success of any business.
If you are still unsure about why online marketing is important, know that "72% of the marketing budget goes towards Digital Marketing, according to a survey from Gartner".
With users spending more and more time online, it's necessary to have a strong online presence to reach your target audience.
But with so many different marketing channels and strategies, it can be overwhelming to navigate the digital landscape on your own.
This is where hiring a digital marketing agency can be a game-changer. By partnering with the experts, you can benefit from their expertise, experience, and knowledge of the latest marketing trends and tools to ignite your online presence and achieve your business goals.
Expertise and Experience
Working with a digital marketing agency means having access to a team of up-to-date professionals on the latest marketing trends and tools. They bring industry knowledge and expertise to the table, helping you stay ahead of the marketing curve and get the most out of your marketing efforts.
Save Time and Increase Efficiency
By outsourcing your digital marketing efforts, you can focus on your core business and streamline marketing processes. This can save you time and increase efficiency, allowing you to concentrate on your best work.
Boost Results
You can expect increased traffic, sales, and a better return on investment with the right digital marketing strategy. A digital marketing agency can help you identify your target audience, create engaging content, and use the latest marketing tools to reach and convert your audience.
Stay Competitive
The digital landscape is changing, and staying ahead of your competitors requires staying up-to-date on the latest trends and technologies. A digital marketing agency can help you stay competitive by adapting to these changes and helping you find new and innovative ways to reach your target audience.
Increased Online Visibility
One of the top benefits of digital marketing is increased online visibility. A digital marketing agency can help you reach a wider audience, enhance your reputation, and build brand awareness. You can get new customers and grow your business with a strong online presence.
How to hire a digital marketing company?
Choosing the right digital marketing agency can make all the difference to your business's success. An experienced digital marketing agency can manage all the online marketing with the efficiency and expertise you ever could do.
There are many factors that you can take into consideration to find the right partner for your digital marketing needs.
Determine Your Goals
Before you start your search, it's important to define your marketing goals. This will help you hiring a digital marketing agency that specializes in the services you need and can help you achieve your objectives.
Research Potential Candidates
Look for companies with a proven track record and experience in your industry. Read reviews and case studies, and reach out to previous clients to better understand their services and results.
Check Their Services
Make sure the agency offers your needed services and can help marketing your business online as it grows. Some common digital marketing services include–
Depending on your business, the priority which you will need might vary. For example, SEO is a great marketing strategy, but for short-term results, PPC can be efficient for you. In that case, choose an agency with equal expertise in all these services, like Rankrezz, that provides 360 digital marketing solutions.
Research their Experience
Experience matters when hiring a digital marketing agency as it shows their ability to deliver successful results for clients. An experienced agency deeply understands the industry and can apply proven strategies to achieve your marketing goals. Rankrezz, for example, has more than 30 experienced team members with industry knowledge.
Evaluate Their Communication and Reporting
Good communication is key to a successful partnership. Look for an agency that is responsive and transparent and that provides regular updates and reports on your marketing efforts.
Compare Prices and Packages
Finally, compare prices and packages to find an agency that offers a good balance of quality and affordability. Don't sacrifice quality for the price, but make sure you get the best value.
Businesses They work with
Selecting the right marketing agency for your business is important. But It's more important to find an agency that will accept you and meet your needs for the best results. Agencies may prefer particular types of industries to work with. Like Rankrezz has specialized in insurance, education, HBAC, health, maintenance businesses, and repair industries.
Ultimately, seek an agency that aligns with your needs and is a good match for your business.
When should you hire an online marketing firm?
Many businesses wonder if they should go it alone or hire a professional firm when it comes to online marketing. While there are many factors to consider, there are some key moments when bringing in a marketing agency that may make sense.
You don't have enough time to market.
Digital marketing trends have become too complicated.
Your content is outdated.
You don't have the necessary skill set.
Your brand reputation has taken a hit.
Want to increase your sales and ROI
Ultimately, hiring a marketing agency is a decision that requires careful consideration of your goals, budget, and internal resources. By evaluating your needs and finding the right partner, you can set your business up for online marketing success.
Conclusion
The world of digital marketing is ever-evolving and complex. If you are not getting the expected ROI, you can unlock the full potential of your online presence by partnering with the right digital marketing agency. 
From increased website traffic, improved search engine ranking, and stronger customer engagement, the benefits are endless. So why wait? Take the first step towards online success and find the right digital marketing agency for you.
To make your work easier, Rankrezz is a 360 digital marketing agency with proven experience in driving results and clients' trust.
So, don't wait – give Rankrezz the opportunity to transform your online presence today!"